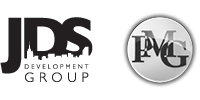 JDS Development Group
202 8th Street is brought to you by JDS Developemnt Group in partnership with Property Markets Group. JDS Development is a leading real estate development company formed by Michael Stern for the purchase and development of residential and commercial real estate. PMG is a NYC based acquisition and development firm founded by Kevin Maloney with a diverse history of developing residential and hotel properties. Together, the sponsors have developed over 3M square feet of property nationwide with a market value of over $5B. Current residential projects in NYC include Walker Tower, 435 West 50th Street, 50 North 1st St, and 107 West 57th Street. Additionally, the partnership is developing 95th & Ocean and Echo Aventura in South Florida.

Cetra/CRI Architecture PLLC is a design practice infused with a passion for design excellence and innovation. The firm envisions and creates design solutions rooted in a commitment to the integration of client mission and market demands. Projects at Cetra are intelectually crafted and have a depth of content that create design and and an architecture of memory.
Exclusive Marketing and Leasing Agent: